To the next 100 years with
new power
We are engaged in many "electrical works" from electric power lighting equipment to power transmission lines, and contribute to the development of electric and electric power infrastructure as a company specializing in electric works with a long history of consistently working on "realization of comfortable living".
Focus on renewable energy as well as power transmission lines and equipment construction. In recent years, various efforts such as CO2 reduction have been promoted worldwide to prevent global warming, and renewable energy is drawing attention due to the shift from fossil energy to clean energy. We are also focusing on the construction of renewable energy power plants such as solar power generation, making the best use of the technological capabilities we have cultivated so far.
And we welcomed [100 years since our founding]. We aim for further development for the next 100 years of the future. In an era of rapid changes, we are looking for human resources who will lead the next generation in order to further evolve our technological capabilities!
THE FASCINATION OF WORKING AT ETS
Proud of the history of "100 years",
we will open up the "next 100 years"
In 1922, 99 years ago, we were born as a lamp power equipment and power transmission and distribution contractor. Currently, as "ETS Holdings", we are mainly working on the development of electric power infrastructure. Business areas include [transmission line construction] to construct transmission lines and steel towers everywhere from urban areas to mountainous areas, [equipment construction] to handle public facilities, commercial facilities, office buildings, etc., and [regenerative energy power plant business], It continues to expand to [extra high / interconnection construction business (including communication tower construction)] and [overseas business]. In the event of a natural disaster, we will support the reconstruction of the region with prompt response. We will celebrate the 100th anniversary of our founding in 2022, and we will strive to improve our technological capabilities by recruiting young people who will lead the next generation for further development with an eye on the next 100 years.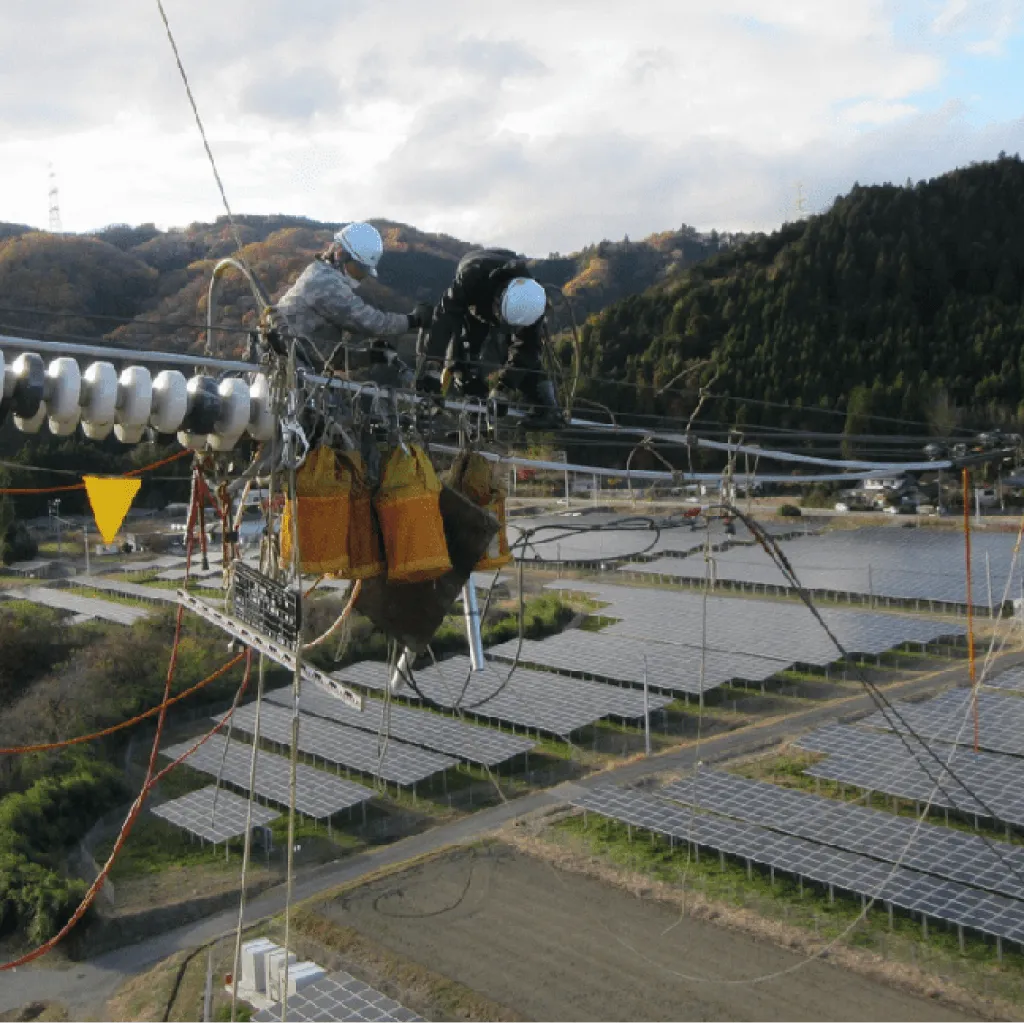 02 Technical and development capabilities
People x know-how x experience is
the foundation of outstanding technological capabilities that will support the future
[Renewable energy] attracting attention on a global scale. We are entering an era of great transformation from fossil energy to clean energy. Utilizing the know-how and technology cultivated in the construction of transmission line towers, we have many achievements in the construction of renewable energy power plants such as solar power generation. Now, in addition to (1) transmission line construction and (2) equipment construction, (3) renewable energy power plant construction is growing as the third pillar of the business. We also have a large number of human resources called high-altitude technical workers (linemen). In addition, we have obtained a patent for our uniquely developed technology (steel tower raising device), which is used for measures against low ground clearance of existing steel towers. The special work of "electrical infrastructure development" in the construction industry is supported by such technology.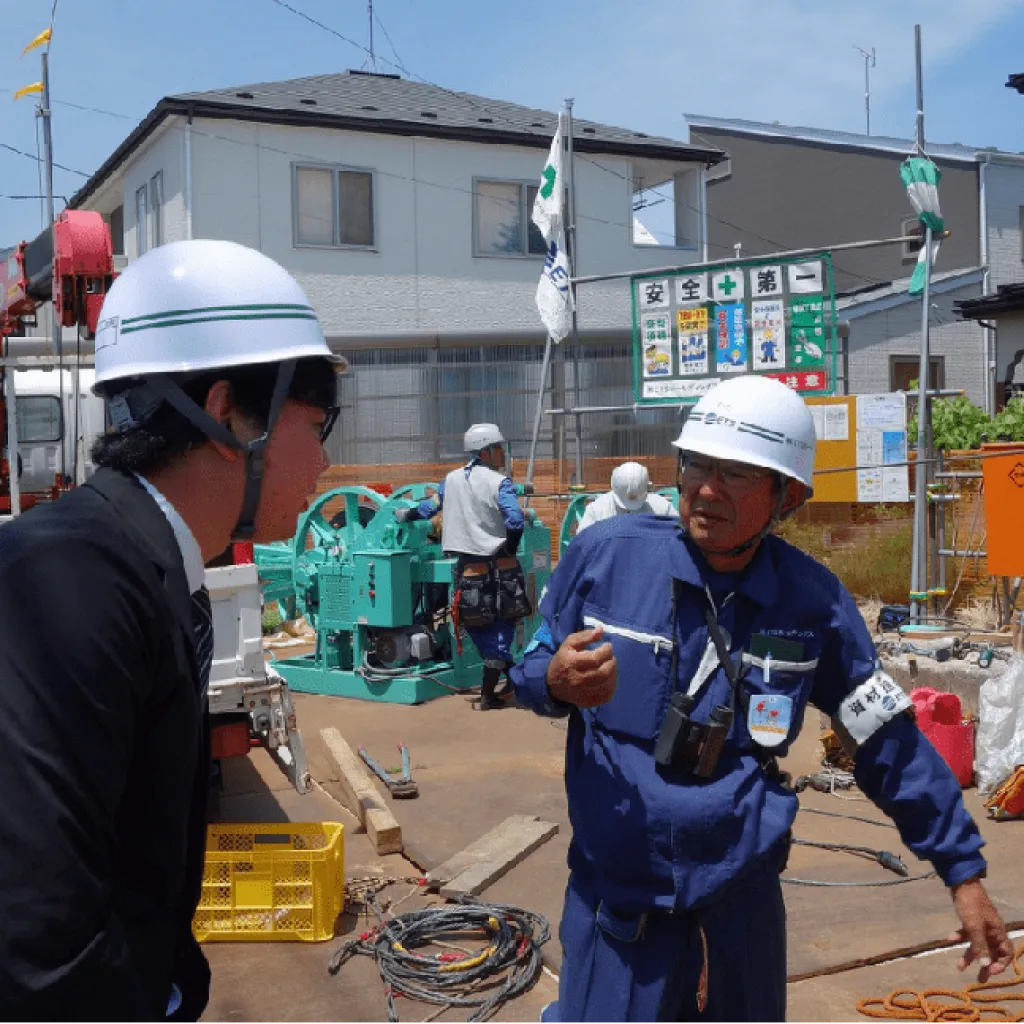 03 Corporate culture and climate
It is a company that is attractive for the "stability" of listed companies and
seniors who take good care of them.
There are many electrical construction companies in Tokyo, but only three are listed. One of them is "ETS Holdings". It is easy to work as a listed company, and the training system that leads to your growth is fully equipped. The company has a cozy atmosphere, and everyone can concentrate on their work. He has a high level of professionalism and is more particular about quality, but when he finishes his work, he is surrounded by a friendly atmosphere. For construction management, you can participate in large-scale projects ordered by major construction manufacturers, overseas companies, the Ministry of Land, Infrastructure, Transport and Tourism. In addition, we can handle everything from the planning / proposal stage to design, construction, and operation support for the projects in charge. It is an environment where you can improve your skills as an engineer.
Outline – Company profile
President and CEO Shinaki Kato

Taisho 11 years (1922) February 11

Showa 10 (1935) December 12

President and Representative Director Shinaki Kato
Managing Director Noriaki Sakakibara
Director Yasumitsu Himeno
Director Naomi Kusaka
Director Takeshi Uesu
Director Masayuki Wakasa (Outside Director)
Director Hirotsugu Kurokawa (Outside Director)
Executive Director Hiroki Yoshino (Auditor Yoji Sano )
Audit & Supervisory Board Member Akio Takahashi (Outside Audit & Supervisory Board Member)
Audit & Supervisory Board Member Takeshi Ishihara (Outside Audit & Supervisory Board Member )

127 people (as of March 31, 2020)

September 30th (once a year)

Tokyo Stock Exchange Jasdaq Market

Electric power business: Overhead transmission line construction, underground transmission line construction, substation construction, civil engineering construction, pipe construction, etc. surveying, design, construction equipment business: electrical equipment construction, instrumentation equipment construction, information and communication equipment construction, disaster prevention / crime prevention Equipment construction,  renewable energy power plant construction construction, energy-saving equipment construction, etc. design, construction, maintenance management Overseas business: Overseas construction, new development business

The location of the company

1-10-13 Minamiikebukuro , Toshima-ku, Tokyo 171-0022 Tel. 03-5957-7661 (Representative)
Membership of professional institutions
Membership of professional institutions
At ETS Holdings, we are engaged in various activities in addition to existing businesses such as community contribution and social activities.